Some stunning coronavirus news just came out of New York.
According to New York Gov. Andrew Cuomo (D), the number of individuals being admitted to the state's Intensive Care Units [ICU] dropped dramatically on Thursday. 
That was unexpected
Cuomo made the revelation during a press conference that he held on Friday. There, he shared with reporters the following chart: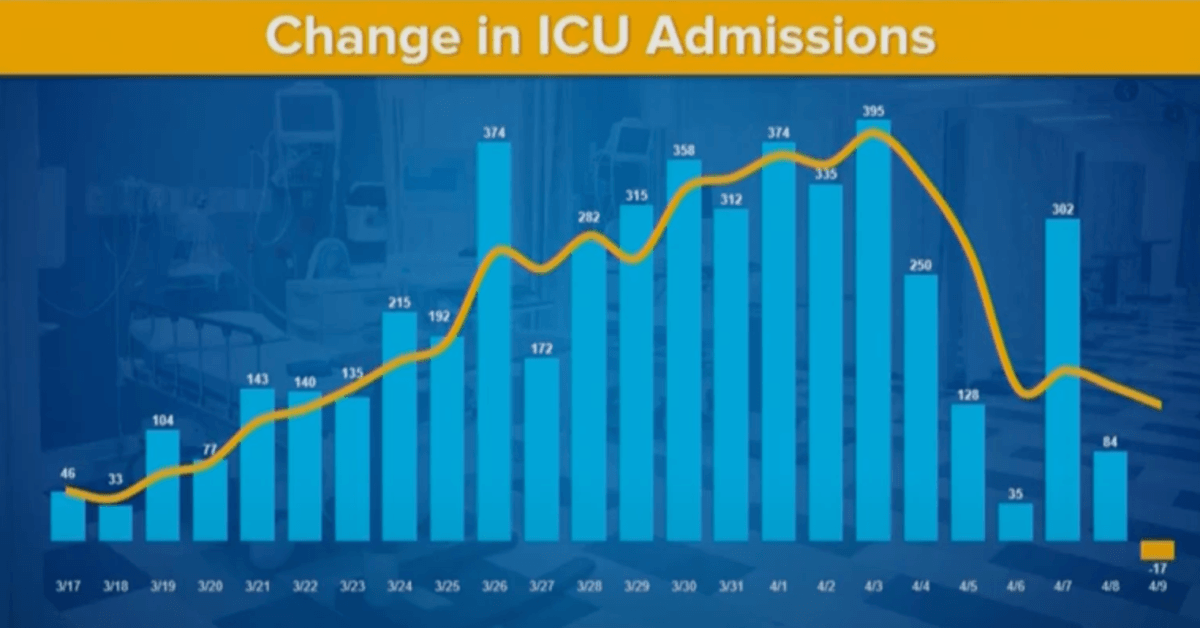 This chart was something that officials in New York started on March 17, and what it does is track the number of individuals in the ICUs of New York hospitals by measuring the difference between new ICU admissions to deaths and recoveries.
As the reader can see, there was a sharp increase at the outset, which peaked at 395 on April 4th. This was to be expected.
But then, out of nowhere, there was just as sharp, if not sharper, of a decrease, going down to -17 on April 9th, less than a month after the chart was begun. "That's good," Cuomo said.
In his Saturday press conference, Cuomo noted that while net ICU admissions were higher on Friday than on Thursday, "all the numbers are on a downward slope." He noted in particular that intubations were down significantly — a good sign.
New York's numbers
Since the outbreak of the coronavirus in the United States, New York has been the biggest hotspot.
According to the latest numbers, of America's 505,805 confirmed cases and 18,870 deaths, New York has accounted for 172,358 and 7,844 of them, respectively. To put this into perspective, the next hardest-hit state is New Jersey, whose numbers — 54,588 cases and 1,932 deaths — pale in comparison to New York's.
Cuomo, accordingly, revealed some of the tragic figures that New York has seen just this week. 777 New Yorkers died on Thursday from the coronavirus, 799 on Wednesday, and 779 on Tuesday, Cuomo said. Unfortunately, there is not that same large dropoff like has been seen with the ICU numbers, although perhaps the ICU numbers are a precursor and deaths tend to lag all other indicators.
Looking forward
If New York is starting to get over the worst of the coronavirus, the question then is when will things get back to normal. At the press conference, that is exactly what Cuomo was asked.
His response, according to Breitbart, was that, in order for New York, which has been on lockdown, to reopen, there would need to be a large increase in the amount of coronavirus testing being done, and he suggested that President Donald Trump ought to use the Defense Production Act to make it happen. We'll see.